04/11/2018
WHO IS ALPHA KING?
Alpha King is a very new name in Vietnam real estate market. Although newly entering the market, Alpha King has been attracting attention when continuously collecting gold land in the center of Ho Chi Minh City. There are speculations about Alpha King, saying that the investor is related to Van Thinh Phat Group.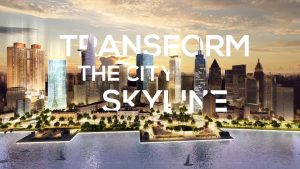 According to the information on the National Business Portal, Alpha King Real Estate Development JSC was established on June 13, 2012 with registered business lines as real estate business, the land use rights of the owner, the owner or the lessee.
Headquartered at 8 Nguyen Hue, Ben Nghe Ward, District 1, Ho Chi Minh City, the legal representative is Mr. Chan Min Simon, General Director is Mr. Cheung Clarence Leonard. Major shareholders are Alpha King Investment Limited (Hong Kong) holding 93.3%, two Chinese Li Yibin and Chiu Keung Kenneth holding 3.3% each.
Recently, Alpha King has launched the first two projects in District 1, Ho Chi Minh City is Alpha Town Class A office building and Alpha City complex (including Alpha Mall shopping center and luxury apartment complex Alpha Hill). The two projects are due for release in September.
Alpha City is a complex shopping center and apartment located at 87 Cong Quynh Street, Nguyen Cu Trinh ward. The project includes a twin tower of 49 floors, including 40 floors with 1,076 apartments ranging in size from 30 to 130m2, and 8 floors of shopping center and bar on the top floor. The project will be launched in the near future with estimated selling price of VND 170 – 200 million / m2.
Currently, the project is still in the construction phase of pile foundation. The project named Ngan Binh Building was invested by Ngan Binh Construction Company Limited. According to the old design, the project has a land area of ​​8,320 sqm including 2 blocks of 35 storeys and 4 basements. After returning to Alpha King, the number of floors of the project has increased to 49 floors, the number of apartments also increased from 400 to 1,000 units.
The project was licensed by the HCMC People's Committee in 2008. However, many years have elapsed, the project is still a vacant lot. In 4/2017, Ngan Binh Investment Construction Co., Ltd merged with Golden Hill Investment Joint Stock Company. Ngan Binh Complex Building was also renamed Golden Hill Tower.
Golden Hill Investment Joint Stock Company also has headquartered at 8 Nguyen Hue Street, which was established in January 2017 with a chartered capital of VND100 billion after the merger and increase of charter capital to 2.798 billion.
The Alpha Town project is located at 289 Tran Hung Dao and 74 Ho Hao Hon, Co Giang Ward, District 1. When in operation, this 35-storey project will provide approximately 70,000 sqm of office space and 2,347 sqm of commercial center space.
Previously, the project is invested by Duc Khai Corporation, trade name Momentum 289 with a campus area of ​​4,261.7 m2. In 2010, the project was ground-breaking, but after 5 years the project has not been implemented.
In June 2017, the City People's Committee approved the project to remove the function of apartments in order to build buildings with commercial functions – services – offices. Then, Vietnam Infrastructure Development and Real Estate Corporation (VIPD Group), a member of Van Thinh Phat Group, is the investor of the project.
Alpha King is taking notice many building projects in the CBD, including SJC Tower, Saigon One Tower, Saigon Me Linh Tower, The Centennial Ba Son, etc.
Read more: Alpha City, The Centennial Ba Son
SJC Tower project is being invested by Sai Gon Kim Cuong Joint Stock Company to speed up construction after nearly 10 years of "blanket". The project is related to Van Thinh Phat Group and related companies.
On the website of VIPD Group also disclosed the information is the investor of this project. VIPD Group holds 18% of shares in Sai Gon Kim Cuong Joint Stock Company. Meanwhile, VIPD Group is a subsidiary of Van Thinh Phat Group.
A gold land project is also rumored to be Alpha King land 2-4-6 Hai Ba Trung, District 1. Previously, this project was named Saigon Me Linh Tower, approved to build twin towers 48 floors and 36 floors, 3 basements with a total investment of 2.423 billion.
Another project is Saigon One Tower. The project has an area of ​​6.672 sqm with the plan to build a twin tower of 5 basements and 41 floors. Started in 2007, Saigon One Tower is expected to be the third tallest building in HCM City (over 195m) after completion in 2009.
The project has a total investment of about $ 256 million ($ 5,000 billion). The project owner is Saigon M & C Real Estate Joint Stock Company. But after 2 years of construction, the shareholders are withdrawing capital from it, Saigon One Tower fell into a deadlock and was inspected by the City People's Committee.
Headquartered at Times Square Building No.8 Nguyen Hue, continuous acquisition of many gold land projects reinforced rumors of Alpha King has a close relationship with Van Thinh Phat Group.
Read more: Time to invest in a prime Vietnam home?
---