10/11/2022
REAL ESTATE DI AN BORDERING HCM CITY – MULTIPLE BENEFITS FOR BREAKING
Owning a bordering location and convenient connection with Ho Chi Minh City, Di An real estate market (Binh Duong) is becoming one of the main sources of supplementary supply for the real estate market in Ho Chi Minh City, especially in the area of ​​Thu Duc city.

Leverage from the location adjacent to the city
Di An City is located adjacent to Thu Duc City, residents living in Di An City can quickly move to key locations in Thu Duc City in just 5-10 minutes. In addition, Di An city also has a great advantage when it is located right next to the National University of Ho Chi Minh City – an area that is planned to become an educational technology center and a high-tech park of Ho Chi Minh City.
This is also an important strategic location as it is located at the intersections of important economic corridors in the region, the hub of road traffic, railways, and a part of the waterway in the southern region of Binh Duong province, to the east Ho Chi Minh City.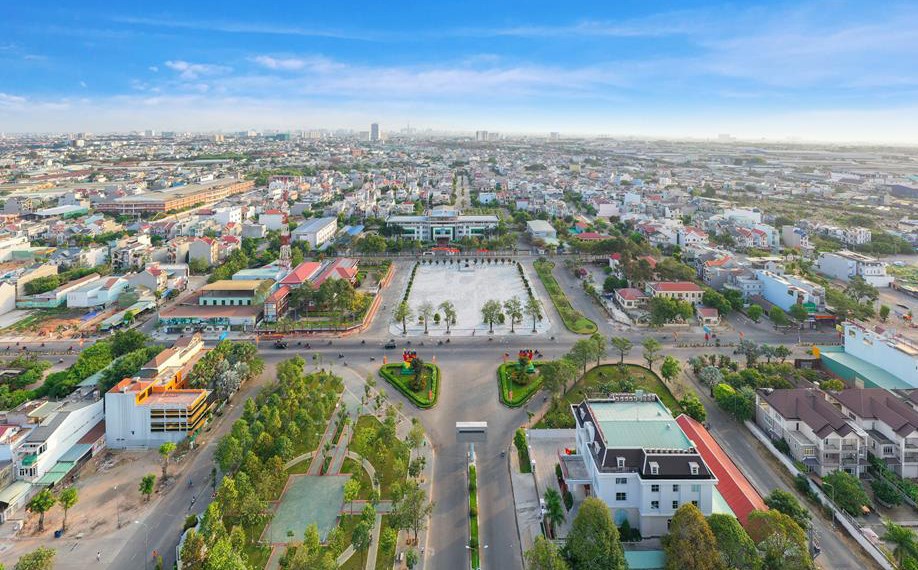 As a bright spot of the satellite real estate market, Di An City is highly appreciated with many advantages to enjoy the potential of Thu Duc – a city that is targeted as a creative, highly interactive city in the East of Ho Chi Minh City.

Resonance of advantages of developed infrastructure
With the goal of becoming a grade I city by 2025, Di An city is focusing its resources on investing in transport infrastructure and focusing on urban planning. Many traffic works here are being accelerated to increase the connection between Di An city and Thu Duc city, Dong Nai province, and other localities of Binh Duong province such as expanding the road 54m of National Highway 1K across the road. Di An connects to Pham Van Dong street (Thu Duc), widens the road to 32m on Thong Nhat street…
In addition, Di An city also benefits from a super project that is about to be completed (expected by the end of 2023) – Metro line No. 1 Ben Thanh – Suoi Tien.
From the push of methodical planning and the speed of local infrastructure upgrading, the real estate market of Di An city is considered experts to continue to grow and develop, promising to be very potent in the future.

Opportunity to own an "affordable" apartment in Di An City
Currently, the real estate market in Ho Chi Minh City has appeared in a situation of "supply-demand mismatch", while the supply of high-end and luxury segments has increased, causing the selling price level to continuously set new peaks. Housing products with mid-range prices are increasingly scarce.

In the context that apartments in Thu Duc City are constantly increasing in price, the Di An area has become one of the focal points to welcome the wave of people who are working from Ho Chi Minh City and surrounding areas to settle down, especially young people.
The apartments in the gateway area in Di An city become the optimal choice with a more reasonable price but still meet the needs of moving and living comfortably thanks to the great advantage of directly benefiting from Thu's infrastructure.
One of the outstanding projects that meet the above criteria in the area of ​​​​Di An city bordering Ho Chi Minh City that has been interested recently is The Gio Riverside – a project revealed by An Gia investor with an appropriate price with the financial condition of young families.
The East Saigon riverside complex – The Gio Riverside – is expected to launch in the fourth quarter of 2022.
---