26/09/2022
MT EASTMARK CITY – DISCOVER UNIQUE INTERIOR SPACE AT EASTMARK 1
Eastmark 1 subdivision – the most beautiful MT Eastmark City project tower – is "super hot" in the East real estate market because it owns a rare price of only 39 million / m2. Even more surprising when accompanied by outstanding advantages from fresh living space and more than 100 modern utilities right in the heart of Thu Duc city.
One of the highlights that customers with real housing needs are very interested in is the interior space. So, let's also JJLand discover Eastmark 1's unique apartment layouts and high-class handover standards!

Unique layout, smart design of apartments at Eastmark 1
Besides the shophouse, office, 1+1 bedroom, 2 bedroom, 3 bedroom apartments are very iinterestingby customers who have real living needs. The layouts are intelligently designed to suit many different families.
The 1+1 bedroom unit is small but airy and useful for many years, while the 3 bedroom unit is private for multi-generational families. In addition, to maximize future residents' living experience, apartments at Eastmark 1 are also designed with side-by-side balconies, with views of the bustling multi-purpose area or the tranquil green river.
Notably, Eastmark 1 "transforms" 1 + 1 bedroom apartment with the highlight of the "extended" area that can be flexibly changed for many purposes from time to time. For example, an office, reading area, yoga room when the owner is single or later will be a Newborn room, Montessori room, a separate room for children to comfortably study and play… Therefore, this considered Product is "tailored" for single people or young families who are looking for a comfortable living space right in the heart of Thu Duc City.

High-class handover standards with famous brands
Speaking of handover standards, many items of Eastmark 1 apartment are comparable to projects with selling prices from 50-65 million/m2 in the same area. Many customers were impressed and surprised with the high-class furniture at Eastmark 1 such as wooden floors for all bedrooms, plaster ceilings for the whole apartment, 4-function magnetic locks, fireproof doors, and upholstered kitchen cabinets. Acrylic, high-quality solid surface kitchen top, glasskote kitchen back…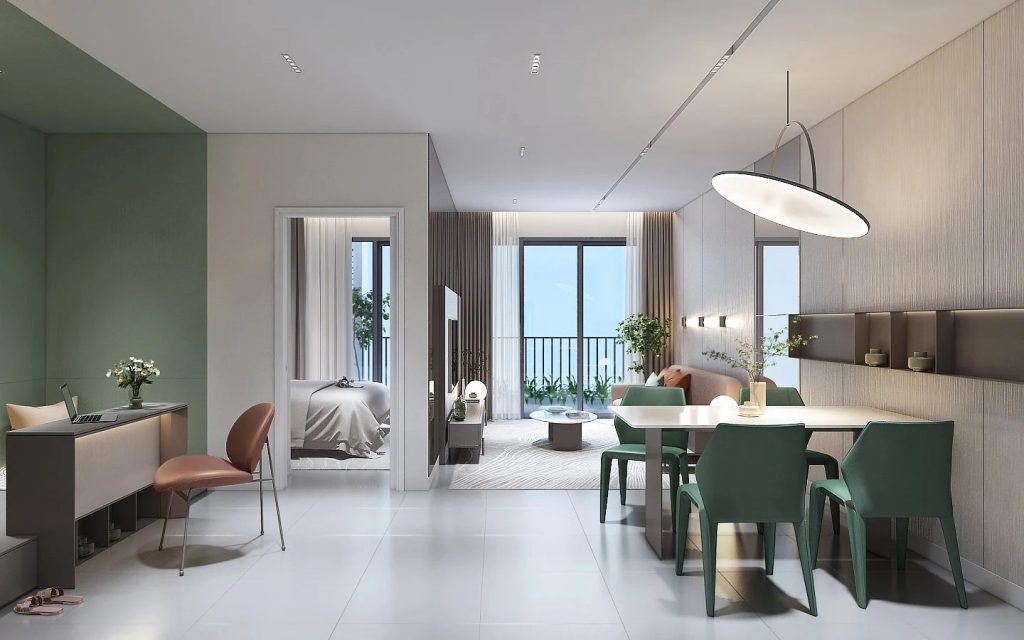 Furniture and sanitary equipment of the apartment are also handed over from reputable and famous brands such as Duravit, Hansgrohe, Panasonic lighting system, An Cuong wood…
In addition to a series of advantages in terms of a prime location with 3 fronts, outstanding facilities, and the best price in the area, MT Eastmark City's "heat" continues to increase "heat" with an extremely attractive sales policy. Specifically, the investor has announced the "Solution to own a home with a finance of less than 1 billion", whereby customers can safely receive a house with an initial capital of about 700 million VND (equivalent to 30% of the value of the apartment). households), 70% of the remaining amount is supported by the bank to borrow and disburse according to the project progress. In particular, Diva tower also has additional privileges such as gifting combos of high-class kitchen equipment, and free management for 2 years. Free 2 years parking fee…
Please contact JJLand immediately to receive advice and seize this rare opportunity to settle down with MT Eastmark City!
---