05/05/2021
Where is Vietnam on the world's branded real estate map?
Through the period we are proud of apartment prices in Hanoi and Ho Chi Minh City significantly cheaper than neighboring cities. This is the time when Vietnam is proud of having real estate products comparable to Bangkok and Singapore in both quality and price.
For many years, experts have analyzed the cheap price of Vietnamese real estate as an advantage to attract foreign investors and the potential for the price increase in the future.
With the majority of customers interested in the real estate market in general, when capital is used to the average price of nearly 7,000 USD / m2 of luxury apartment segment in Ho Chi Minh City and about 5,100 USD / m2 in Hanoi. But with the trademark of Marriott International, Grand Marina follows the rigorous standards of Marriott and JW Marriott, just like any other luxury apartment project of Marriott and JW Marriott anywhere else in the world. gender. These standards are in all phases of the project, from design, construction, to sales and aftersales services, including operations management and project maintenance to give the customer an experience. "brand name" throughout. This is a measure showing that Grand Marina not only brings Vietnamese real estate comparable to other markets in terms of price, but also quality. From many angles, this is a project that marks a proud new chapter of the Vietnamese market.
Proud to bring Vietnam to the world
For customers buying Grand Marina, Saigon, owning a luxury apartment here is a pride, because this is a million dollar brand representing the owner's class, status and success. Wherever they step in the world, they can proudly show off to their international clomid 50mg friends that they own a brand-name Marriott or JW Marriott apartment and get admiration. They will become members of high-class clubs around the world, to easily connect and seek opportunities to increase their own net worth through networking and cooperation. In other words, a branded apartment is a "passport" to bring the rich Vietnamese people to the international elite easily.
Many people of this rich new class want to assert their achievements after years of striving and enjoying after many hardships. That is the driving force that makes these customers desire to bring "brand" into their daily living space. One customer shared: "I have been looking for and waiting for a product model such as a luxury apartment for a long time in Vietnam. What is more comfortable than having professional people trained according to hotel standards 5" Why, ready to serve me every day such as cleaning the room, doing laundry or organizing a small party for friends and relatives right in the place where I live. value "brand" highest. "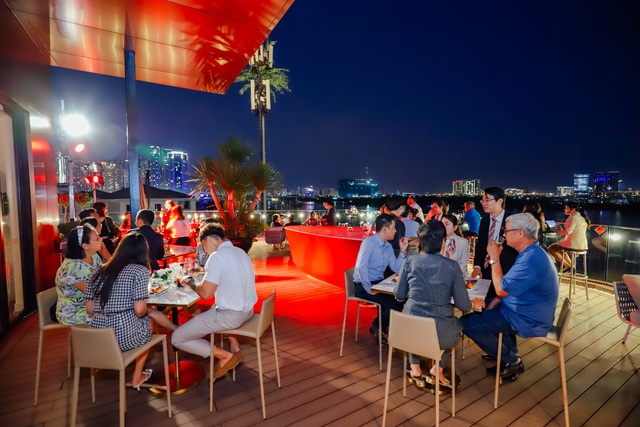 Grand Marina Gallery is always full of customers to visit the model house and attend the event
Branded apartments will be the biggest and most proud of the rich customers who are accustomed to buying and using branded goods such as designer bags and luxury cars to confirm their position and success in the world.
Proud to bring the world to Vietnam
It has been many years since a Vietnamese real estate project has been introduced to foreign countries, and is more proud than a successful launch. Hong Kong investors are ready to spend millions of dollars on luxury apartments at Grand Marina without visiting model houses and projects. Partly thanks to the Marriott brand, according to Mr. Kingston Lai – Founder and CEO of Asia Bankers Club.
International press pays attention to Vietnam as the country where Marriott places the brand's largest branded apartment project in the world, and Ho Chi Minh City as a place marking the first step of the line. Marriott apartment brand name when coming to Vietnam.

The Hong Kong press shared the launch information of Grand Marina, Saigon
Other international brands in the branded real estate segment are also eyeing Vietnam and looking for opportunities to continue Marriott to bring its brand-name urban apartments into this market. According to Savills, Vietnam is expected to have at least 6 new branded real estate projects in the future, bringing Vietnam into the top 10 countries with the largest number of branded real estate projects in the world.
Positive customer feedback to the Grand Marina project shows that the Vietnamese market is mature and rich enough for a luxury luxury real estate model. Perhaps it is only when there is this luxury apartment project that both Vietnam and the world realize the absorption potential of the market in this Southeast Asian country with such new and expensive product lines.
---